"Short as life is, we make it still shorter by careless waste of time"
– Victor Hugo
The 80/20 Principle is a major life principle that applies to any situation and is seen everywhere in our daily lives. In a nutshell, this principle states that 20% input creates 80% output. So if you put 20% input into a project, it will create 80% output.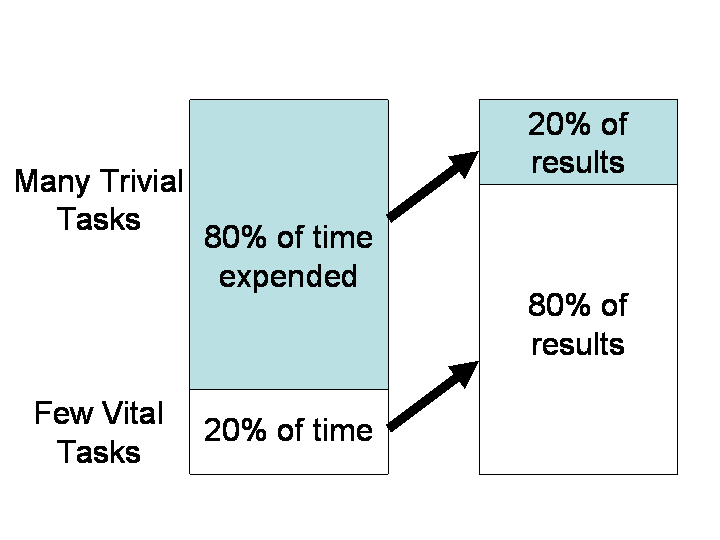 This means that 80% of time spent on trivial tasks will only create 20% result and 20% of your time spend on vital tasks will create 80% of your results.
This principle was named after the Italian economist Vilfredo Pareto who noted this rule at the University of Lausanne in 1896. He noticed that 80% of the land in Italy was owned by 20% of the population and 20% of the peapods in his garden contained 80% of the peas.
This principle shows that most things in life don't have an equal ratio to them. There is never an equivalent exchange or a 1:1 ratio between the time invested and the result produced in business and life. Other examples of this principle include that 20% of the roadways in your city occupy 80% of the traffic. Most people spend 80% of their time with only 20% of their friends. 20 % of the clothes in your closet is worn 80% of the time.
This can be applied to your business and investments as well. 80% of problems are caused by only 20 % of causes. Like if you have a serious problem in your company, it is usually because of 20% of your employees. As a recruiter or boss you must correct these 20% of the cause in order to solve almost 80% of your problems. 80% of profits will only come from 20% of investment opportunity.
That is why it is necessary to invest in multiple sources and not in a single source. 20% of stocks will generate 80% of the profits. 20% of currencies will be held by 80% of the population. 80% of profits will come from only 20% of customers. As you can see this can be applied almost anywhere. The exact number doesn't really matter however the concept is very important. Other examples of the ratio can be 70/30, 90/10 or 99/1.
Only the concept of inequality matters for this principle. The English language has 1 million words and 50 thousand words are most commonly used which is 5%, this would be a 95/5 ratio, 5% of the words are used 80% of the time and is still considered as the Pareto's Principle.
This concept shows us that in order to be successful, whether in business or investments we need work smart, not harder. Most people believe working harder is the key to being successful, however if you're working hard at a trivial task, 80% of your time will only generate 20% of the result. Doesn't matter how hard you work, there will be little success.
We must work smart in order to turn 20% of our effort into 80% of result in order to be successful. Most successful people today, became successful by doing the 20% of the vital work not the 80% trivial work. 80% of the world's wealth is held by 20% of the people. Which means those people worked smarter not harder.
If only working hard mattered then anyone who works hard will become successful which is simply not true. In our life 80% of our time is procrastination and 20% of our time produces actual results. Never get caught up with a mentality that working hard will make you successful, because it will not. Always work smarter.
Overall using this principle in effect, your goal should be to do the least input and receive the most beneficial output of any arrangement whether it is business or investments or even your daily life. Knowing and understanding this principle can greatly benefit you overall. In business applying this principle can result in your company saving costs and making a product most people will use or buy.
Since 80% of people look for only 20% of the functionality in a product. Making a product that focuses on those 20% of the function will attract 80% of those customers. Your business is more likely to sell since your product may also be cheaper compared to your competitor. This also has a tremendous possibility to increase your profit margins to a very high level. So, try to understand this principle as soon as possible and apply it where nessacary.